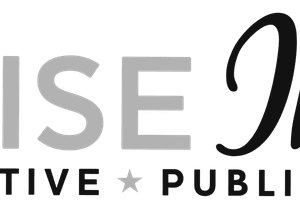 Wise Ink is revolutionizing the way aspiring authors can reach the goal of their book's publication. Their team made up of Amy Quale, Dara Beevas and Laura Zats pay attention to the visions you have for your book and help to execute them as best as possible. Wise Ink allows you to schedule a free consultation to discuss your book via a form that you fill out yourself. 
About the team: 
Amy Quale (Chief Publishing Officer): Amy has a background in publishing production, developmental editing, copy editing, and writing. To date, she has worked with more than 250 authors from beginning to end and has been a part of the publishing community for seven years. Her passion is in helping authors deliver the written word in the highest and most complete form possible! Amy's emphases are in memoir, spirituality, sci-fi/fantasy, YA, and academic writing. Amy has a master's degree in English.
Dara Beevas (Chief Strategic Officer): Dara has been involved in the publishing community for twelve years, acquiring manuscripts, managing projects, and creating marketing and sales strategies for authors and publishers. Dara's emphases are in business, children's, health, and memoir, and she's helped more than 400 authors publish their books. Originally from the DC area, Dara has a master's degree in electronic publishing from George Washington University. She's a board member of the Minnesota Center for Book Arts and is the author of The Indie Author Revolution. When she's not busy pushing the envelope in this crazy world of publishing, she's traveling and enjoying her husband's delicious Jamaican meals.
Laura Zats (Editorial Manager & Content Strategist): Laura graduated from Grinnell College with degrees in both English and anthropology. While completing her studies, she took advantage of her love of Young Adult (YA) literature and wrote a thesis on identity formation in YA. She's been working as an editor since 2011 and has held positions at companies in both the US and the UK. In 2013, Laura joined Wise Ink as an intern, but was quickly promoted to editorial assistant and then editorial manager and content strategist. In her free time, Laura likes to craft, swing dance, bake, and binge on Netflix marathons of Buffy the Vampire Slayer and Doctor Who.
About Wise Ink:
Wise Ink helps authors perfect, and strategize content for their audiences for their book's success. When using Wise Ink, you will receive publication services, one on one attention to your goal, and the tools you need for your ultimate success.
Steps of Wise Ink:
Plan: By consulting with Wise Ink you can discover your ideal audience, develop a strategy to reach them, and roadmap your publication. They will collaborate with you, giving you the tools and ideas to ensure you make the right decisions for your book.
Build: Wise Ink customizes your book with expert editing and design services. They additionally offer illustration, proofreading, e-book conversion, and printing services. They pride themselves on their one on one strategies for publication. 
Launch: Wise Ink helps you as the author to build and grow a platform. They also help with speaking coaching, events, and social media assistance, ultimately making your goal a reality.
Sell: Wise Ink offers authors multiple avenues (Amazon, eBook) to get your book out into the world. They help you choose what will work best for your targeted audience. 
Wise Ink's publication offerings: 
Project Management & Writing/Editing: Work with Wise Ink to lead you through an indie publishing process from start to finish. 
Design: Cover, interior, typesetting, marketing kits, social media pages
Illustration: Cover, interior pages, logos
Book Printing and Distribution: We offer affordable, customized printing for all types of books. Distribution available through national wholesalers and distributors.
eBook Conversion and Distribution: Includes ePUB and mobi files, distribution to Kindle, Nook, iBooks, and multiple other platforms.
Fixed-layout Ebook Conversion and Distribution: We recommend this service for cookbooks, business books with charts and graphs.
Distribution through Kindle, Nook, and iBooks.
Base Package (perfect for novels, poetry, memoirs, and YA fiction titles)
10 project management hours dedicated to coordinating your book from beginning to end
custom cover and interior design
book formatting/typesetting
e-book conversion and distribution to e-book retailers
barcode, ISBN and Library of Congress Number
The Full Package (perfect for business, self-help, cookbooks, coffee table and how-to titles)
all items in the base package, plus:
strategic publishing plan and marketing strategy
an additional 15 project management hours
the inclusion of photos & images
book printing (quantity determined by you)
distribution to Amazon, Ingram, and Baker & Taylor