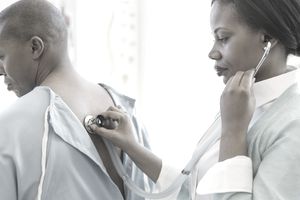 You have just found out that you have a serious illness, and there are a lot of thoughts running through your mind. One of them is "What about work?"
What should you do? What should you - or shouldn't you - say? Who should you tell? When should you mention your medical circumstances to your boss and co-workers?
How To Tell an Employer About a Serious Illness
Before you tell anyone in your office, gather as much information as possible about your illness and treatments.
Think carefully through how much you need to share, as well as how much you want to, at this time. Consider the best timing to broach the topic with your manager, and what you're going to stay when you discuss it.
Know Your Employee Rights
Talk to your doctor about your treatment plan, what your side effects are likely to be, and how they may affect your ability to perform your job. You should also familiarize yourself with your legal rights as a sick worker. Go over your health insurance coverage, company policy on medical leave, disability insurance, if you are covered, and your legal rights protected by the Americans with Disabilities Act (ADA), and the Family Medical Leave Act (FMLA). Remember that your manager is going to need time to process what you are telling her as well, and she will need to think through what the impact is going to be on everyone in your department.
Talk to Your Manager
It is a good idea to make an appointment, formally or informally, to talk to your manager when you decide to tell her about your illness.
That way you ensure that you will have some uninterrupted time to talk through the issues you want to discuss, and your manager will have some time to prepare for the conversation as well.
You might want to send an email or make the appointment directly with her or her assistant. Be brief, direct, and honest about the reason for wanting to meet, but you don't need to go into great detail.
Saying, "I'm having some health issues that I would like to discuss," or "I'd like to meet with you regarding a diagnosis about my health that I have just received" is sufficient.
Have a Plan Ready
Many times, the most difficult part of starting the conversation is fear of how your employer is going to react. Know that besides having the law on your side to support you as you continue to work through your treatment, you may also have allies in your manager and your colleagues.
If you can, come up with a tentative plan for keeping up with your projects, and some ideas to accommodate time off you will need. Make a list of talking points and questions in advance, and bring it with you, to help keep the conversation on track.
Things may change when you discover how you are going to respond to treatment, but it will make a positive impression on your manager to know that you have thought about how to remain a productive member of the department.
Most often, your manager and your colleagues will want to help and will make every effort to make sure that you can keep doing your job. Try to be as clear as you can about your needs and expectations, and give your manager the opportunity to ask questions.
Remember, you only need to answer what you feel comfortable addressing, and can politely decline any question that you feel is too personal. Keeping the communication open and honest throughout your treatment will ensure that the plan you devise together will be successful for all concerned.
Ideas to Consider When Planning
Here are some ideas to help you devise a plan to keep working:
Can you work from home a day or two during the week, on treatment days and maybe a day following, and wrap up the loose ends over the weekend?
Would it be possible for you to do most of your work from home, going into the office weekly or bi-weekly to meet with your colleagues? You can remain in close contact through daily emails and phone calls.
Would it be possible to delegate some of your responsibilities to your colleagues (without putting too much of a burden on them), so that you can work a shorter week during the course of your treatment?
Prepare For a Meeting
Before you meet with your employer, ask yourself these questions about how your illness will affect work and review the questions your manager might ask you.
Suggested Reading
Short-Term Disability Benefits
Disclosing your disability to an employer