Who Becomes Commissioner of a Sports League?
Profile of Canadian Football League Commissioner Jeffrey Orridge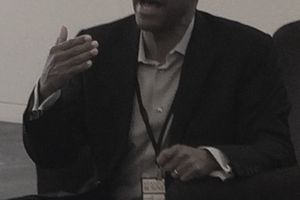 In just the last two years, Major League Baseball and the National Basketball Association have appointed new commissioners - Rob Manfred and Adam Silver, respectively.
The arc of each of their careers is remarkably similar: lawyer working for the league as outside counsel, hired by the league to work internally with a focus on labor relations, served for many years as former commissioner's right-hand man, and then appointed commissioner.
Is there any other path to becoming a league's commissioner?
At the Stanford's Graduate School of Business Sports Innovation Conference (SIC) an interview with incoming Canadian Football League Commissioner Jeffrey Orridge, revealed a commissioner who comes to his new role with a different background.  Orridge is currently Heads of Sports and General Manager for the Canadian Broadcasting Corporation. From his SIC bio:
In his role of chief strategist and negotiator, he secured the media rights to the Olympic Games through 2020 and oversaw record setting broadcast reach, digital consumption and profitability for the Sochi 2014 Olympic Winter Games and 2014 FIFA World Cup.
In addition to his experience in television, Orridge has played key roles at consumer product company Mattel (2001-06), served as head of sports licensing at Warner Bros. (1996-99), and led international basketball initiatives at Reebok (1994-96).
So, Orridge comes to his new position with a wealth of sports business experience across different roles with different organizations.  But as is the case with Manfred (Harvard) and Silver (Duke), Orridge is the product of a top law school (Harvard).
So in answer to the title question, earning a degree from prestigious law school is a good starting point if you have aspirations of becoming a league commissioner.
In his "Fireside Chat" with Dr. Cheri Bradish of Ryerson University, Orridge discussed the start of his career.
Orridge had what he described as a "passion" for sports and was able to leverage his experience as a corporate lawyer to become the first general counsel for an Olympic governing body in his role working with USA Basketball from 1991-94.
This corresponded with the Team USA "Dream Team" featuring Michael Jordan, Larry Bird, Magic Johnson and other stars.  There were controversies based on logos and endorsement contracts and Orridge was intimately involved in developing solutions.  As he pointed out at Stanford, the 1992 Dream Team was a seminal "moment in the globalization of sport and a turning point in the complications of individual players brand associations" and teams and other properties (like USA Basketball) and Orridge had a front row seat for all of it.
His role as the newly appointed CFL commissioner was certainly not pre-ordained as Manfred and Silver experienced.  In fact, Orridge was not mentioned in any of the media speculation when league was searching to replace Mark Cohon, commissioner since 2007.
But his combination of experiences led to his becoming a top candidate.
  And while not mentioned by Orridge during his remarks, his working in Canadian media gave his candidacy some advantage over other US based executives who may have been interested. 
Another interesting point made during Dr. Bradish's comments is that Orridge is the first African-American commissioner of a North American sports league.
+++++
Orridge's story shows that there are different paths to arriving at the same position, in case commissioner of a sports league.  His path was different than Silver or Manfred, and that should be your takeaway from this article.
The career path for working in sports is rarely linear and hard to predict. In many instances it is easy to see how a sports professional arrived in his or her position after looking in the rear view mirror once they have arrived in the position.
So how should early career professionals and students plot their careers then?
First, be open to gaining experience across the organizations you work fdor to develop an understanding of the various aspects of the sports industry.
Next, be open to working for different entities in sports, as Orridge did.  Again, this will give you a deeper understanding of the industry.
Finally, keep networking.  You never know which connections you have made over the years can lead to your dream job.