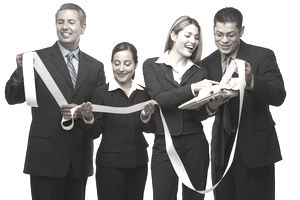 Crowe Horwath had its beginning as a certified public accounting firm only employing two full-time employees back in 1942. Crowe Horwath then established a consulting group in the 1960s, and today they are considered to be one of the most respected firms of its kind. Known as "The Unique Alternative to the Big Four," Crowe gives four reasons why its services are among the best.
The highest level of service and value it brings to clients.
The core competencies of its thought leaders.
Its innovative approach to client needs.
Its high level of service commitment.
Crowe possesses over 3,000 employees working out of 28 offices across the United States. The company provides audit, performance, risk consulting, and tax services to companies in a number of market sectors; including construction, education, finance, food and agriculture, healthcare, manufacturing and distribution, not-for-profit, private equity, and state and local government.
Crowe is the eighth-largest accounting firm in the country by revenue according to Accounting Today's 2015 Top 100 Accounting Firms rankings, with $686 million in revenue in its latest fiscal year. Vault.com has rated them as #21 in Best Overall Internship, #10 in the Accounting 50, and #46 in the Consulting 50. They have also been recognized as #6 in Diversity for Military Veterans, #8 in Diversity for Minorities, and # 13 in Diversity for Women plus one of Atlanta's Best and Brightest Companies to Work For, National Association for Business Resources, 2013, and Best Places to Work in Illinois, Best Companies Group, 2013.
  Competitors include PwC, KPMG, Ernst and Young, McKinsey & Company, CohnReznich, and Plante Moran among others.
Interns rated their experience at Crowe Horwath as a 4.6 out of 5.0. Of those interns, 100% of those surveyed said they would recommend the company to a friend or relative. They cited things like great personal growth and development, good team support, friendly environment, good company perks, and events as a few of the reasons for rating them so high.
Intern salaries ranged from $23.00 to $26.50 per hour. Over 90% of Crowe Horwath interns surveyed said that the interview was a positive experience.  Approximately 93% found their internship via campus recruiting while the remaining 7% found their position online.
Locations:
Los Angeles, Sacramento, & San Francisco, CA; Fort Lauderdale, Miami, Orlando, & Lakeland, FL; Atlanta, GA; Chicago, Springfield, & Oak Brook, IL; Indianapolis, Fort Wayne, & South Bend, IN; Louisville & Lexington, KY; Grand Rapids, MI; Livingston, NJ; New York, NY; Columbus & Cleveland, OH; Knoxville & Nashville, TN; Dallas, TX; and Washington DC.
Internship Pick of the Week: SOAR​
Crowe offers the Success-Opportunities-Achievement-Results (SOAR) Internship Program to top-achieving students from across the U.S. They offer both a summer and winter/spring program, which run approximately 10 weeks. SOAR begins with firm and business unit orientation and provides a well-rounded overview of Crowe's clients, work initiatives, culture, people, and values. Interns are assigned to project teams to experience real industry work and direct client engagements. Interns also have an opportunity to work closely with Crowe managers at all levels and have access to firm partners. Interns participate in information sessions led by firm leaders and enjoy various networking and team-building opportunities.
Due to the nature of accounting and consulting firm busy seasons, there are a couple differences between the summer and winter/spring programs.
Summer interns participate in "SOAR Serves," a day of community service in which all interns across the firm volunteer at various local nonprofit organizations. Additionally, summer interns work in teams for an end-of-internship project to create newsletter highlighting client engagements and other experiences during their time at Crowe. Winter/spring interns have the opportunity to experience the very busy audit and tax season. Internship projects have an increased focus on client work as they learn about and support the deadline processes and prepare for full-time positions as part of the role.
To further ensure the intern's development and experience, all interns have a performance manager and peer liaison to provide feedback and support throughout the program. SOAR provides an environment where students can build strong skills in the workplace and gain real hands-on experience in the field.
Everyone at Crowe helps make SOAR a positive experience by providing guidance and answering students' questions throughout the internship. The internship program is the number one pipeline for full-time hires and Crowe experiences about a 90 percent acceptance rate. It is standard for former interns to receive a starting bonus if they are offered and accept a full-time position with the firm.
Qualifications:
Accounting major
GPA of 3.0 or higher
Authorized to work in the United States on a permanent basis
Proficient with Excel
Excellent communication skills
Demonstrated leadership abilities
Excel in individual and team projects
Available to work/travel evenings or weekends
How to Apply:
Go to Crowe's website to complete an online application and upload a resume and cover letter.